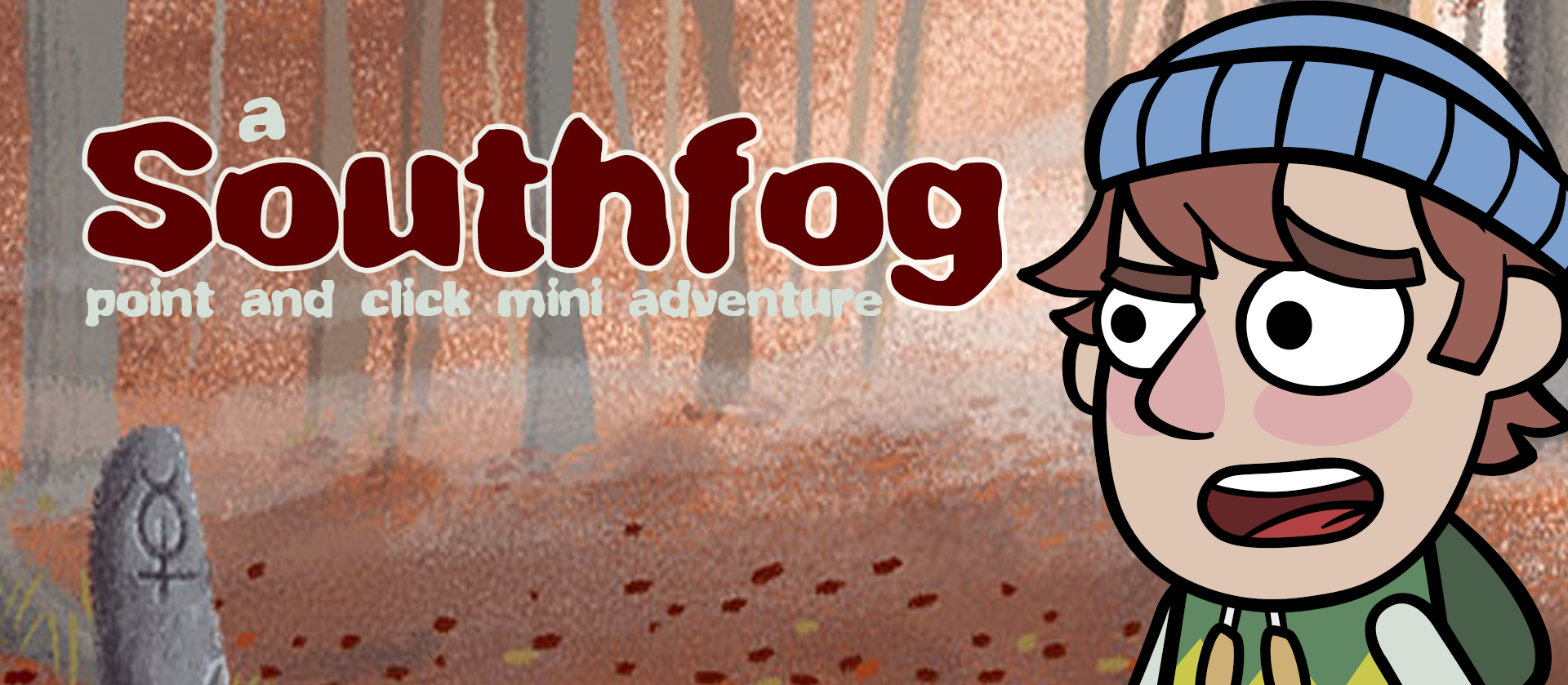 Widow's Woods - A Southfog Mini Point and Click Adventure
A downloadable game for Windows, macOS, and Linux
OVERVIEW

The woods around Southfog has many secrets. You never know what you're going to find on a camping excursion with a friend - but wait, your friend isn't anywhere to be seen. So now you are alone in the woods - or are you?
Widow's Woods is the first in a series of short point and click adventures set in the small township of Southfog, where mystery and the unusual abound.
CONTROLS
Use the mouse to control the cursor, and left click to interact with objects on the screen.

Select the appropriate command from the bottom of the screen, or right click to cycle through the available commands. (Alternatively, press SPACE to cycle between the commands)
UPDATES
10/03/19
I've made a few more changes so that I can feel that the game is completely complete.
- better title screen with a touch of animation
- a quick save system
- improved the logic of one of the puzzles, to reduce the frustration it created for some (most?) players.
7/3/19
I have made a lot of changes to the game. Some small, and some big. There are too many to remember them all, but some key points are:
- voice balloons added for character dialogue
- more and better comments with interactions with objects
- different character design for main character (the original one was done in a hurry due to the short game-jam timeframe. I hope people don't mind the change. I much prefer it.)
- additional location and character
- experimental item combination to try out a feature for a longer game (not necessary for the completion of this short game, but can you find it anyway?)
- changed the name of this mini adventure. Originally called "Southfog - A mini Adventure" and then "Southfog - Alone in the Woods" and now, with the completed game I have finally decided upon "Widow's Woods - A Southfog Mini Adventure".
28/02/19
Added some quality of life improvements, such as:
- longer text display, to avoid clicking past some text
- icons added to cursor to show current command
- added missing description from some items and objects
- added a Linux version of the game, but I have no way to confirm that the game runs. If any Linux users could give me feedback on whether the game runs for them or not, it would be really helpful.
26/2/2019

The biggest change here, is the addition of an online browser playable version.

I have also fixed a couple of errors, and consider this version to be the final version, unless someone reports some bugs and I will fix them ASAP.

Also removed the ridiculous ESC quits game flaw.

25/2/2019

- added different and more music tracks that suit the mood
- a better looking inventory interface
- finally, different actions rather than just one all-purpose one. You can use, look or walk. This gives a lot of different comments on examining things or trying to use items together.
23/2/19

- audio

- faster character walking
- more interactive background environments
- additional character comments to assist with guiding to next objective
-------------------------------------------------------------------------------------------------

This is a very short point and click adventure I made to help me learn how to use Visionaire Studio 5. But essentially, it is just a trial run to know the strengths and weaknesses of 1) myself and 2) the engine, before commencing plans on a much larger game.

I completed it in six days as part of the Weekly Game Jam 84, with the theme of "Alone". (Two additional weeks were spent adding features and improving existing ones.)

Controls are with your mouse and left mouse button.

Widow's Woods is inspired by many different things. There's a little bit of Gravity Falls, Stranger Things, Unforeseen Incidents and maybe a few other things too.
I would love any kind of comments that you would like to make - positive or negative comments are both welcome.

Download
Click download now to get access to the following files:
WidowsWoodsSouthfog1.4_linux.zip
128 MB
WidowsWoodsSouthfog1.4_macos.zip
113 MB
WIdowsWoodsSouthfog1.4PC.zip
110 MB
Comments
Log in with itch.io to leave a comment.
Thanks for the comment. Yes. A save feature will definately feature in future games. I thought it was too short to need one in this one. What do you think? I will add one if people think it necessary. Also, do you have any suggestions concerning accessibility or any other points. I am very open to suggestions or criticisms.
Thanks for streaming the game Joshua. I got a lot of tips from watching you play it and your suggestions, and I appreciate the positive comments too. The features you thought were missing were mostly due to me not having enough time to implement them. The Visionaire engine does provide the features you thought the game needed. Some features have now been added, while that ESC and quit nuisance will definitely be removed very soon. :)

This was a really interesting game and the extra day to do some add on's really polished it up. Artwork was nice and the character looked great. The added music really improved it to. A great job. Well done... :)
Thanks very much for the comments and the play through video. :)
As I said before, I do appreciate you doing the play-through, but I just wanted to let everyone know that the game has changed a little since the video. :)

That is very cool idea and I like Gravity Falls feel. I wish the main character would walk faster or run, but I really like design in this game especially backgrounds.
Thanks very much for the feedback. I have just made an update to complete some missing features, and I increased the walking speed too.